You gotta love wardrobe malfunctions! Thanks to the paparazzi, every now and then we get a glimpse at our favorite celebrity's hidden treasures. We definitely enjoy a little nip-slip here and there, but our all time favorite celeb-slips have to be the glorious upskirts. Luckily for you, we have a collection of some of our most cherished. These gems will for sure put a little filling in your twinkie!
These flashes of heaven are bound to happen when celebrities exit their car, but sometimes it seems they show the world their lady bits on purpose. A prime example of this is Chrissy Teigen exposing her pretty little penis purse (here)! The dress she wore to the American Music Awards had a slit that came up all the way to her waist, and of course, she was PANTYLESS. What a naughty little wife John Legend has on his hands.
Tasty Celebrity Upskirts That Went Viral
This collection of upskirts will have you harder than a rock down there, if you know what I mean! We've got everything from the infamous Britney Spear's peepshow to Elizabeth Olsen's pantie flash. We hope you enjoy!
Amanda Seyfried

Wow!! Whatever paparazzi was working this day in Paris had a keen eye and a great lens. This photo set of Amanda Seyfried really shows off what she's working with. If that doesn't make you hard… get yourself checked! Also, don't miss her leaked fappening fiasco to see some even better things 🙂
Xenia Tchoumitcheva

Do you think this Russian-Swiss babe meant to bare her ass like this at the Suicide Squad premiere on August 5th, 2016?! Xenia Tchoumitcheva (or Tchoumi) is one daring woman if that is so. We can't help but love her style, too – the higher the slit on a dress, the easier it is to rip off! Keep an eye out for this 29 year old fashion blogger and model, we have a feeling we'll be seeing more of her in the near future.
Charlie XCX

We thought the British were supposed to be conservative! I guess thats not the case with pop singer Charli XCX. The "After the Afterparty" singer wore a barely there red skirt with swimsuit top to match during her 2017 Number 1 Angle tour in Las Vegas. There was so much ass shaking, I think she intended for us to get a few flashes of her tasty treats!
Cara Delevingne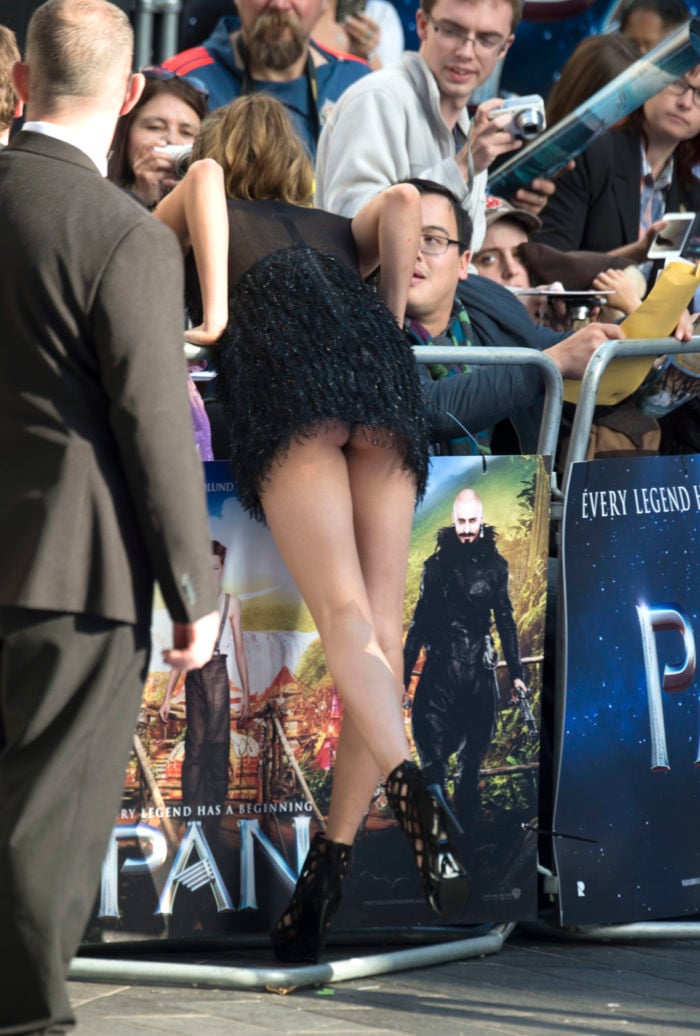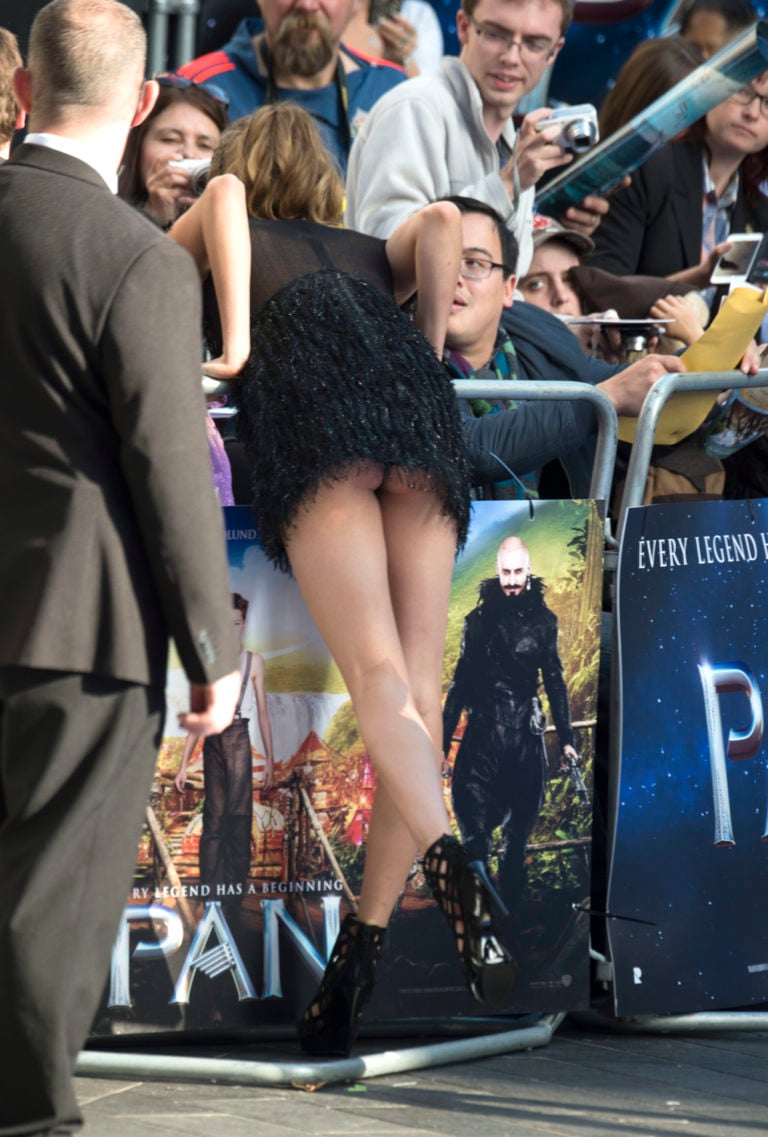 The 24 year old bushy-eyed model Cara Delevingne revealed a little more than she wanted to at the 2015 Pan premiere in London. Her back door shined as she leaned in to answer a reporters question. This upskirt may not have been planned, but it was sure a nice surprise knowing the blondie wasn't wearing any underwear beneath that dress!
Katy Perry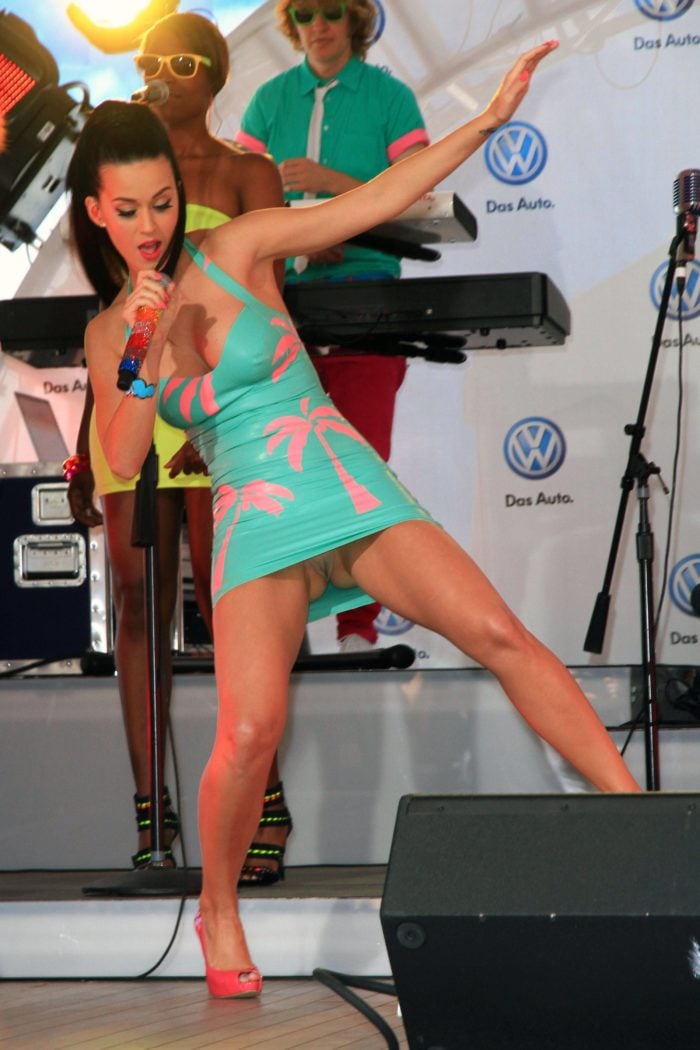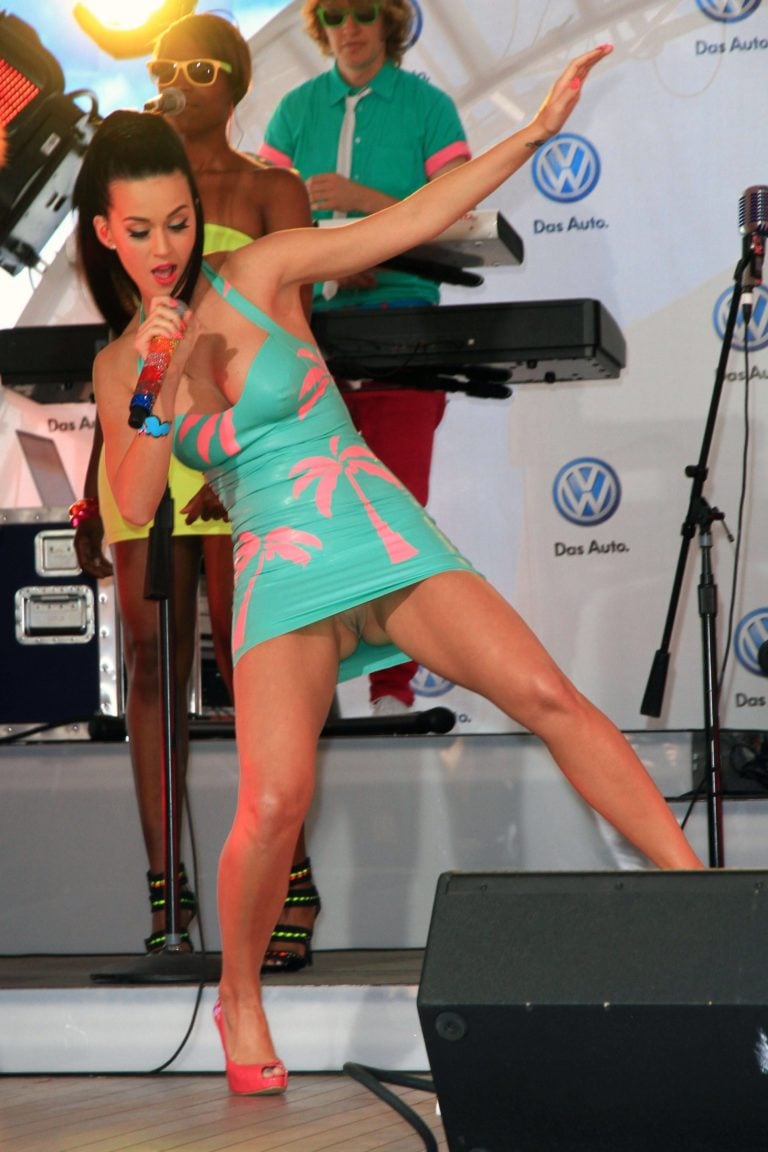 We definitely saw "Fireworks" when Katy Perry's bearded clam made an appearance at the Volkswagen 2011 Compact Sedan World Premiere. Yeah, the busty singer was wearing nude panties under her super tight palm tree dress. Lucky for us we still got to see a glimpse of her treasures while she was dancing on stage! Katy is definitely known for wearing revealing clothing so we're bound to get another peek at her sweaty love box again.
Lily Allen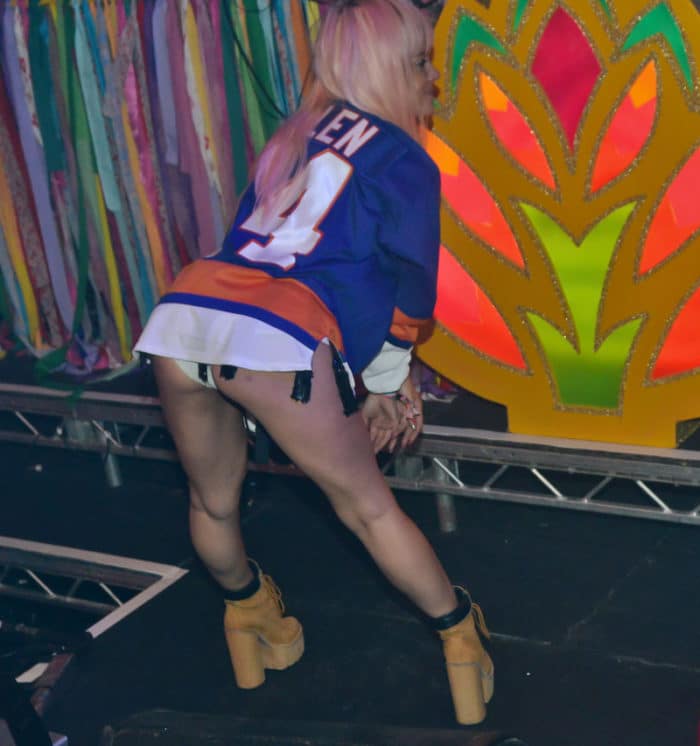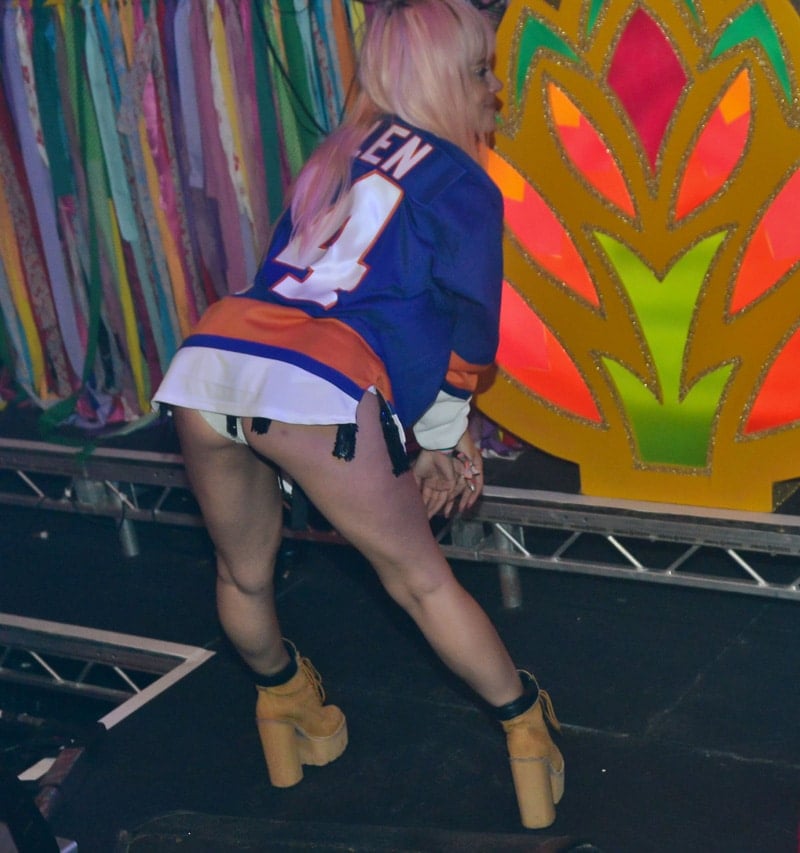 The electro-pop British singer Lily Allen showed off her derrière while she was getting down on the dance floor at the 2015 music festival Bestival. She definitely looked like she was having a blast. The beauty was shacking her ass and wearing nothing but a blue NFL jersey and heeled Timbalands! MMM, MMM, break us off a piece of those toned legs.
Kylie Minogue

Australian singer Kyile Minogue had a bit of a Marylin Monroe moment during her live performance at the 2014 Festival de Cannes. The gust of wind did us all a favor and revealed the 48 year old's bright red panties under her pink dress. All of her is still looking fantastic for her age! We'd still take her to pound town today.
Elizabeth Olsen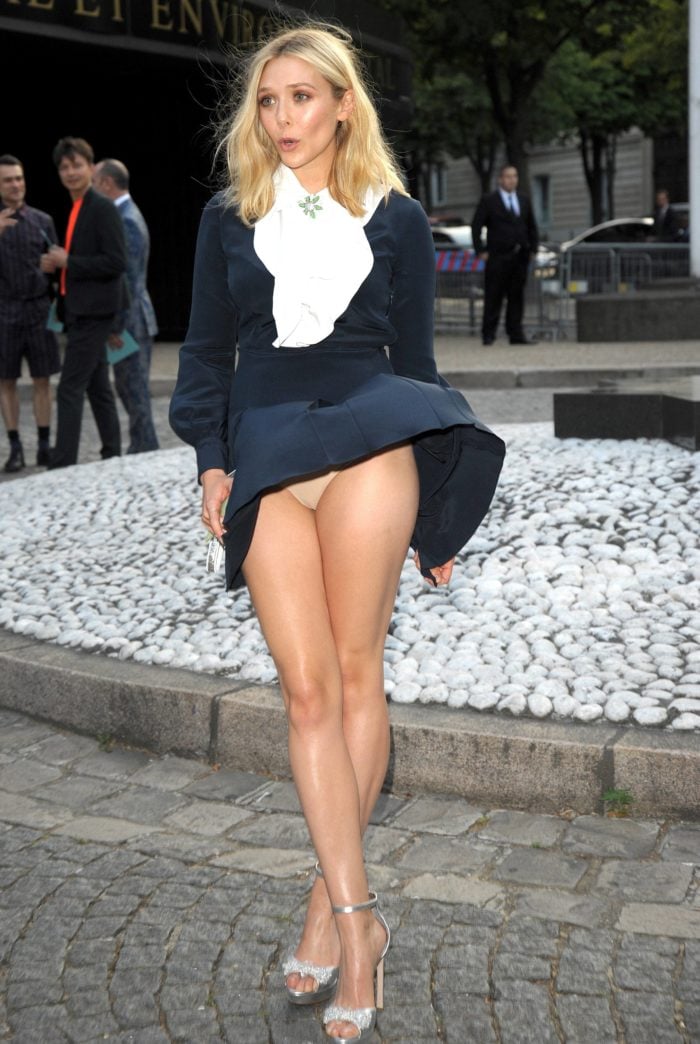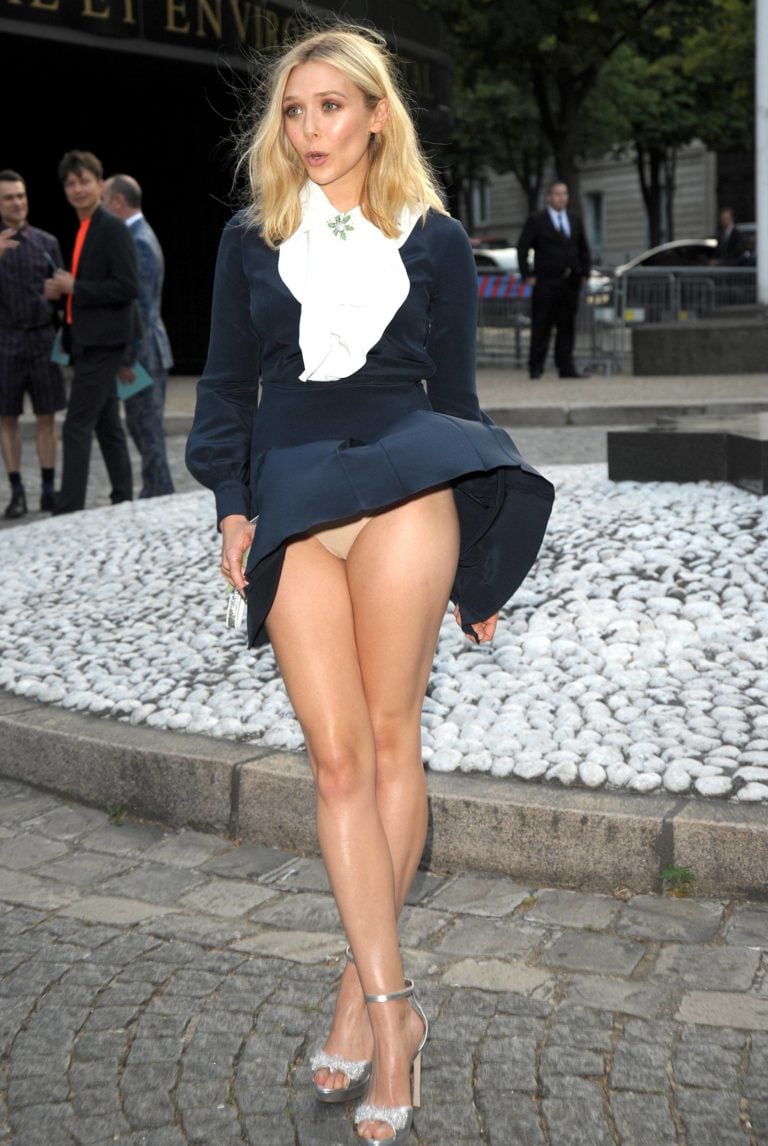 Even some of the more classy celebrities can have some "Oops!" moments. The youngest of the Olsen clan, Elizabeth Olsen accidentally flashed her nude panties while stopping to get her pictures taken at a fashion show in Paris. The poised actress played it cool as she laughed off the moment like a CHAMP!
Britney Spears
Ahh, yes. The most famous upskirt! This image was all over the Internet back in the early 2000's. The Princess of Pop, Britney Spears gave everyone a peek at her beef curtains. It didn't seem like she cared either. We can always count on Britney for some scandalous pictures! She gives zero fucks about life and continuously provides us with pussy-slips to this day! God bless her.
Jennifer Lawrence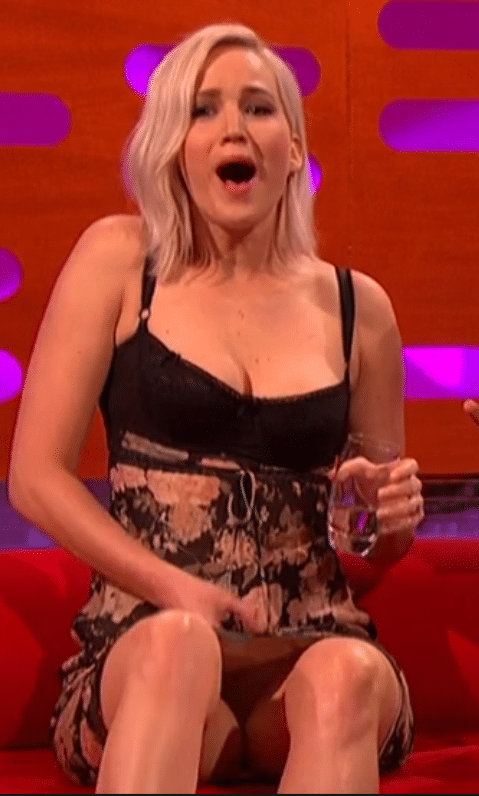 And last but not least, the pussy-flash that the whole world experienced! The witty Jennifer Lawrence exposed her pink taco while she was live on The Graham Norton Show. She may have been a little tipsy when the incident happened, but she played it off very casually because that's what she does best! If only the camera man zoomed in a little more.  But that doesn't really matter when you can see the real thing here 🙂
Victoria Silvstedt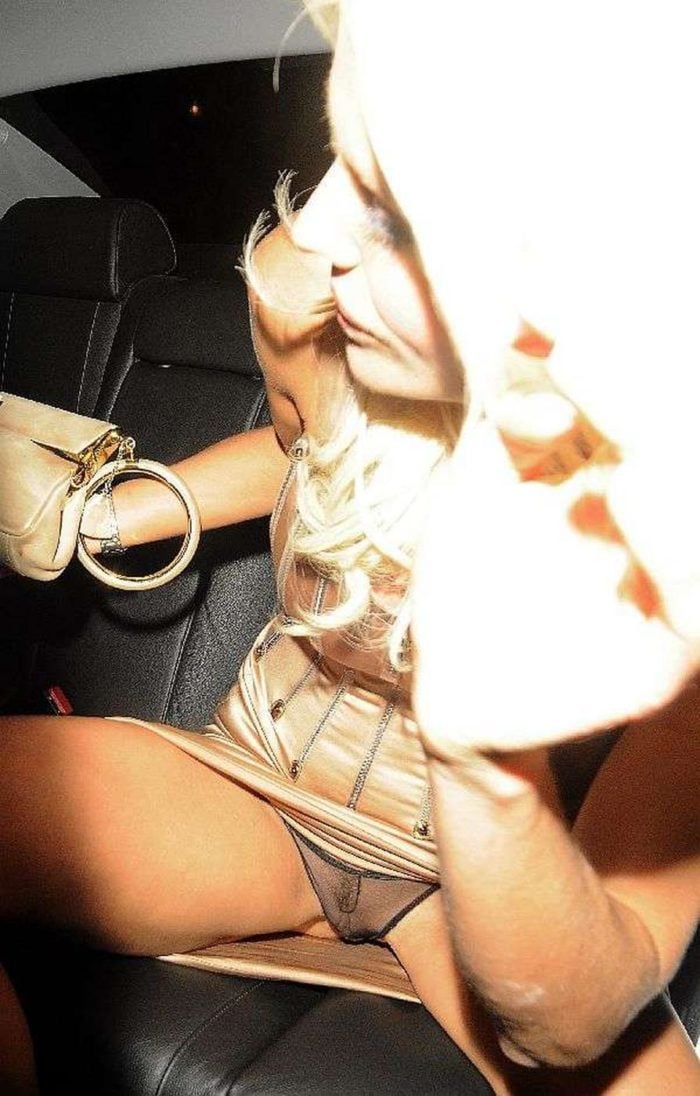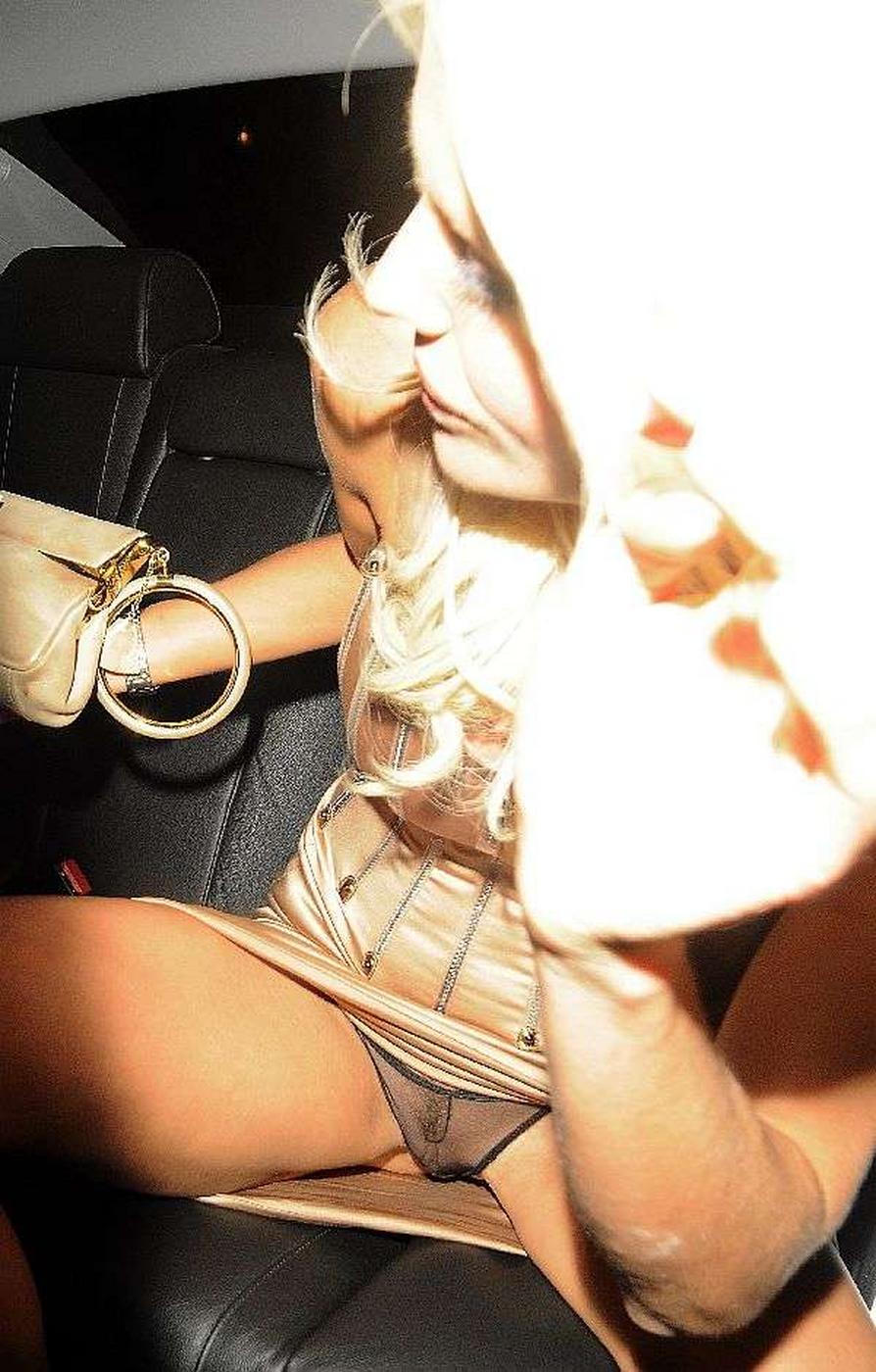 Here we have Swedish model and actress Victoria Silvstedt.  If you were an adult in the 90's, you may recognize her from Playboy, Melrose Place, BASEketball among others.  But that's not the important part here, right? These photos came from a lucky paparazzi and some nicely sheer panties.  Full pussy view all day.  Beautiful.
Beyoncé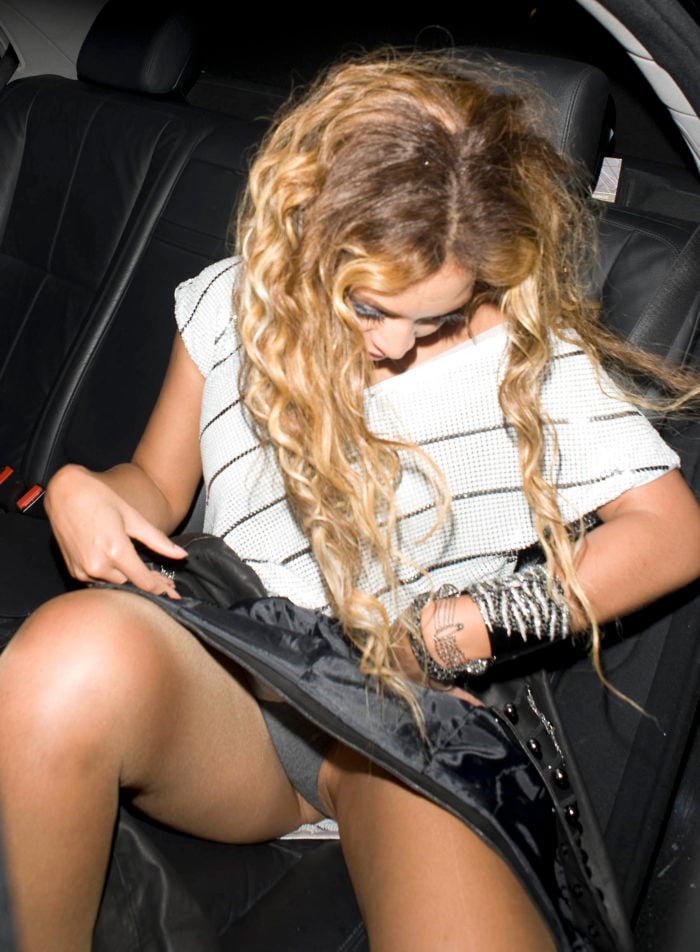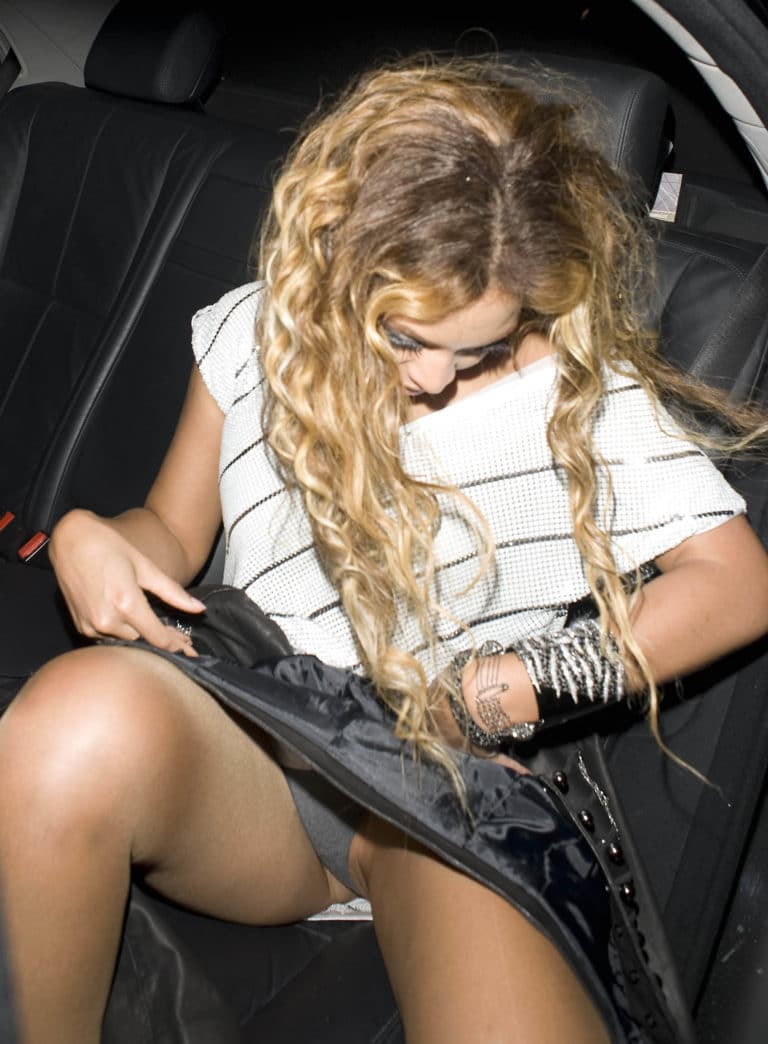 Queen B has made Jay Z one lucky man.  He gets to tap that ass (and it's a beautiful one), eat that pussy and bust it all the way downtown.  Here are a few photos collected from over the years of Beyonce showing a little more than she meant to show.
Lisa Rinna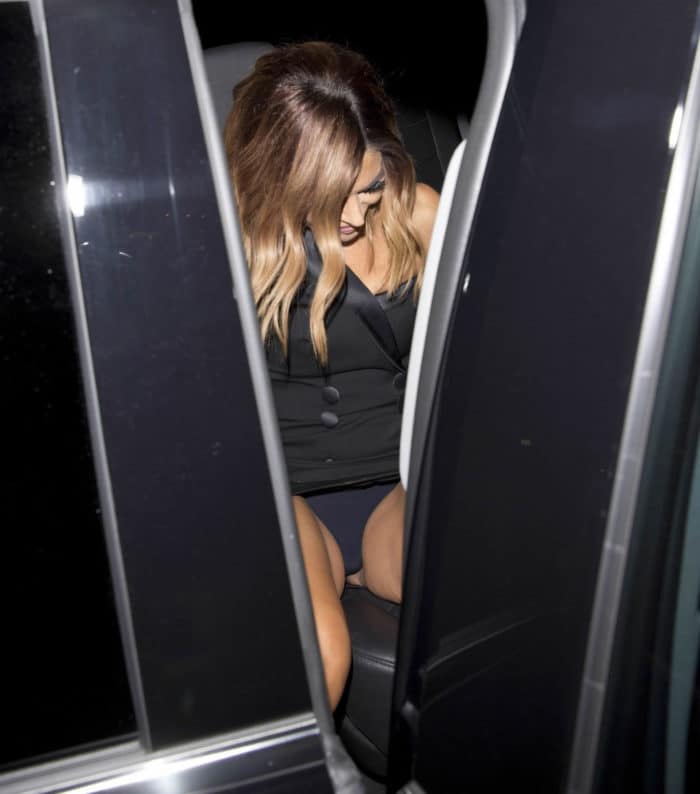 Lisa Rinna has been around for ages – she is mostly known for her TV show acting roles on classic 90s shows like Days of Our Lives, Melrose Place and more recently The Real Housewives of Beverly Hills. She has also made television appearances on shows like The Celebrity Apprentice and Dancing with the Stars.
She is what we could call a celebrity MILF, and a scandalous milf she is… she once posed nude for Playboy.  This time, a lucky paparazzi caught a great upskirt while getting out of a black SUV.
That mom pussy is looking like it needs a thick young cock!